Buying online the best washing machine under 15000 is such a smart decision to save your valuable time & effort.
Did you remember? there was a time when our Mothers & Sisters were washing the clothes manually.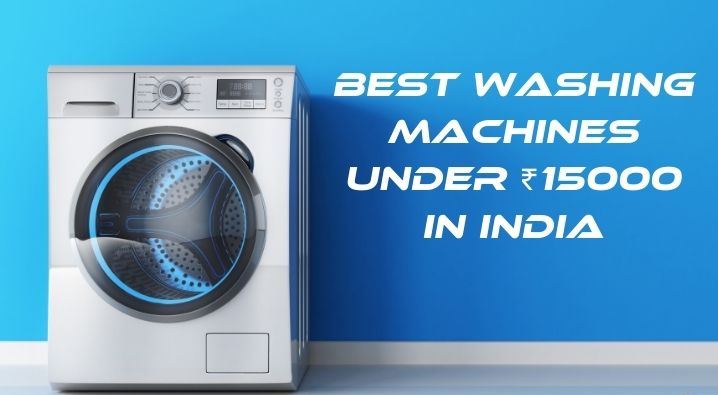 It was really a tough job, but now thanks to the washing machine industry. They made it an easy & comfortable job.
=> Let's Begin
5 Best Washing Machine in India Under 15000
Whirlpool is one of the oldest brands in India in the washing machine industry.
Its Whirlpool ACE 7.5 SUPREME semi-automatic washing machine is the first entry in the list of best washing machines in India under Rs15000.
This machine is capable of a medium and large family (6 to 8 members).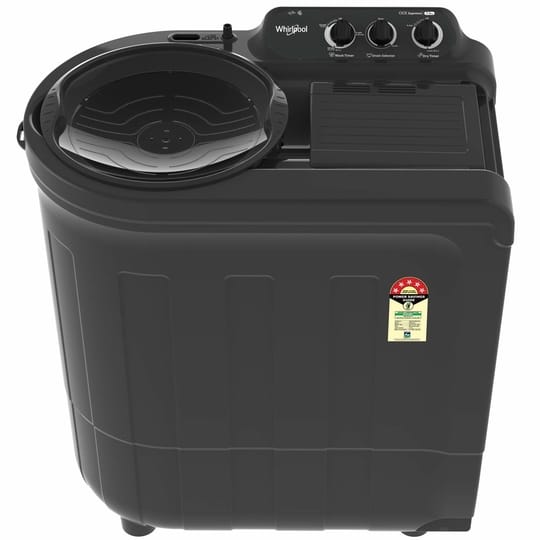 Specifications
Model: ACE 7.5 SUPREME GREY DAZZLE
Weight: 22.5 kg
Type: Semi-Automatic
Drum Capacity: 7.5Kg
Material: Plastic
Noise level: 65 dB
Energy Rating: 5 Star
Maximum Rotational Speed: 1400 RPM
Wash & Spin consumption: 340W | 150W
Key Features
Hard water wash technology
Express wash technology
Auto Tub cleaning | Auto-restart
Washing Programs: Heavy, Delicates, Normal
Advance Features
3 Wash Programs
For Save and customize wash for each of the fabrics this whirlpool machine comes with 3 wash programs.
Soaking Technology
This technology is really best for clothes because clothes soak the concentrated detergent and wash faster.
Spin shower
It reduces remaining detergent from the clothes with the help of a spin shower.
Inbuilt Cooler Scrubber
Most of the women clean the shirt cooler manually during the wash but now feel free with this in-built cooler scrubber feature. It ensures each cooler gets good scrubbing every time.
Notification Alert
Whirlpool ACE washing machine equipped with buzzer, basically this feature alerts you at the end of the wash cycle.
Auto Resume
This feature helps you in case of a sudden power cut, and as the power back. It will continue where it was stopped.
Advantages
Easy to use with better quality.
Light-weighted.
Movable because of 4 wheels.
Durable design.
Panasonic is one of the most powerful washing machines. This machine is quite unique in character as it comes with features like easy iron, eco turbo clean, and auto start features.
The more you will know about the features the more will be like.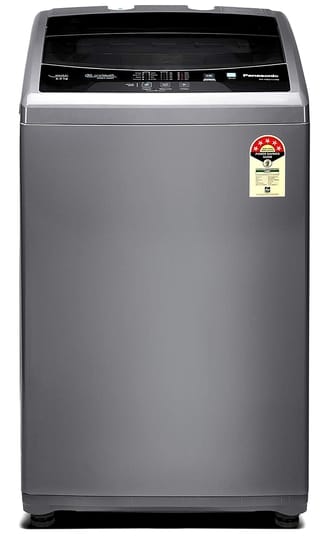 Features
8 Washing Programs
Smart Inverter Motor
Gentle Hand Wash
Control Panel
Auto Restart & Voltage Control
Easy, Smart, and Effective Wash
Advance Features
Smart Inverter Motor
The Panasonic comes with a dual Pulsator which imparts multi-directional dancing water flow to deliver a thorough cleaning.
While the modern front loaders come with a brushless digital inverter motor with a 3D sensor for convenience.
Castor Wheels & Metallic Body
The New Panasonic top load washing machines come with a durable polypropylene body which is robustly designed to be rust-proof.
Also, equipped with castor wheels that impart portability to the washer. The castor wheels are made up of good quality plastic, capable enough to handle the heavy load of the appliance.
3 Way Wash Technology
A new generation of front-load Panasonic comes with AquaBeat technology. This is a 3-way washboard lift mechanism that optimizes the washing performance.
3 distinct motions facilitate effective removal of dirt:
Beat wash: Tumble motion wash for a strong movement of load inside the drum
Rain wash: Detergent and water are pass through the fabric of the clothes because of centrifugal force
Toss wash: Imparts massaging effect through lite toss-like movement inside the drum.
Advantages
Suitable for a small family.
Innovative and extra ordinary machine.
Quite suitable for cleaning blankets.
Comes with eco turbo clean technology.
Samsung is one of the best Korean companies in the washing machine industry. This machine is easily available at a click on see the price on the Amazon button and is ready to use, which means no need to install it.
As per performance, Samsung machines feel you better wash and semi-automatic top loading with excellent features.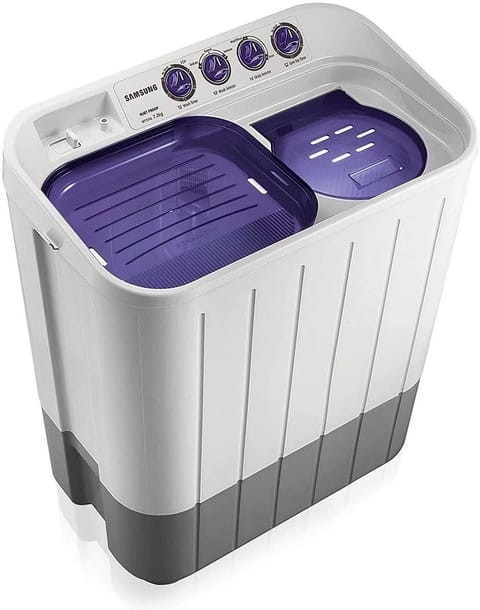 Specifications
Model: WT725QPNDMPXTL
Weight: 29 kg
Type: Semi-Automatic
Drum Capacity: 7.2 Kg
Material: Plastic
Noise level: 60 dB
Maximum Rotational Speed: 740 RPM
Key Features
Lower water & energy consumption
Faster Drying Time
3 Wash Programs: Normal, Intensive, and Delicate
Scrubber board | Central Jet Pulsator | Buzzer
Advance Features
Design
The Samsung WT725QPNDMPXTL machine is made with a rustproof plastic body that prevents rust and corrosion for better durability.
Air Turbo Drying System
Turbo air drier generates the heat in the drum that helps to warm the clothes approx 40% in the drum. This appliance is good for a medium family (5 – 7 members).
EZ Wash Tray
The EZ wash tray comes with this appliance for handling multiple laundry tasks such as rinsing, scrubbing.
Washing Features
This washing machine is equipped with a dual jet system that makes horizontal & vertical water current in the tub. This process is for making sure deep clean clothes are without tangle and twisted.
Performance
In the last, this Samsung washing machine produces awesome performance. During the wash, you can put in the drum strong strain clothes and heavily loaded clothes up to 7.0 Kg capacity.
Advantages
Better washing performance.
Exclude the drier.
The large drum with full capacity.
Disadvantage
Wastewater pipe short as compare others.
Haier is another popular brand in India which mainly produces Kitchen and Home appliances such as Microwave ovens, Refrigerators, Air Conditioners, TVs, Washing machines also. Haier 7 Kg Semi-Automatic HTW70-186S Washing Machine is compact in size and also budget-friendly.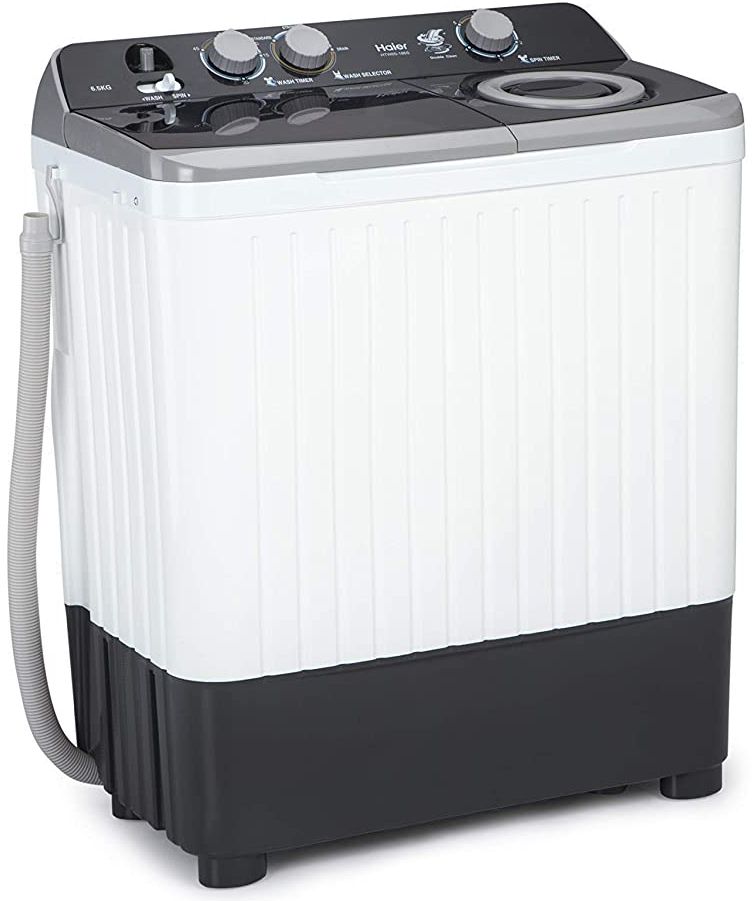 Specifications
Model: HTW70-186S
Weight: 19 kg
Type: Semi-Automatic
Drum Capacity: 7Kg
Material: Plastic
Maximum Rotational Speed: 1300 RPM
Voltage & Watt: 220V | 345W
Key Features
No of Washing Programs: 2
Consume low water & Energy
Softball Technology, Rust free cabinet
3 Washing Programs
Advance Features
Spray Wash
This technique divides the water into different water flows. Then it reduces the foam formation so that clothes can be clean effectively.
Magic Filter
Generally, the magic filter capture the lint, dirt, and other components while washing so that you can achieve effective cleaning result.
The wind dry technique is to make your clothes 100% dried so that they become moisture and smell-free.
Anti-Rat Mesh
Commonly, Anti rat mesh is a hard plastic that covered this Haier washing machine for better durability. It is also protected to enter the rat into the machine.
Casters
Commonly we call caster is the wheel which installed in the machine. So thanks to the Haier manufacturer for making it easy to move. Casters reduce the friction while pulling it and no need to put extra effort.
Advantages
Best for Couples, bachelors at the best price.
Light-weighted.
Compact design.
Good Performance.
LG P8035SGMZ machine is very popular and most uses in each of Indian houses.
The best thing about this L.G 6.5 Kg semi-automatic top load washing machine is instant use. You don't need to install or pay for the installation fee, simply order, and be ready to use.
If you have budgetary issues, this is the best option for you.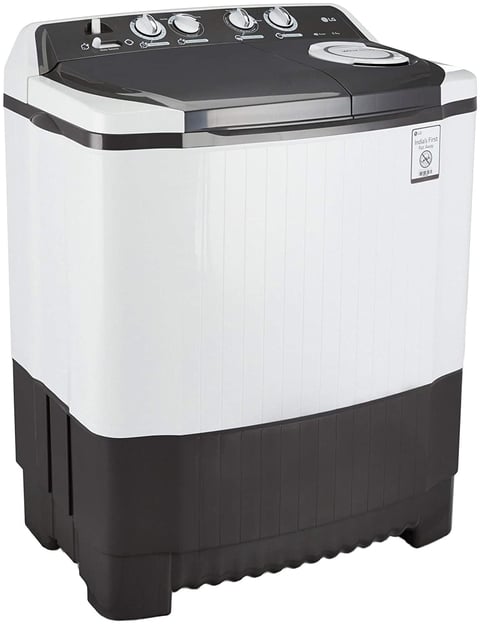 Specifications
Model: P8035SGMZ
Weight: 24 kg
Type: Semi-Automatic
Drum Capacity: 8 Kg
Spin Tub Capacity: 6 Kg
Material: Plastic
Noise level: 65 dB
Maximum Rotational Speed: 1350 RPM
Key Features
Spin & Wash Window
Anti-vibration Rubber, Buzzer
Washing method: Roller jet pulsator wash
Auto Restart Lower water & energy consumption
15 min wash timer, 10 min spin timer, 25 min soak
Advance Features
3 washing programs
Gentle mode: If your clothes lite dirt, you can wash in gentle mode.
Normal mode: Mostly daily uses clothes you can wash in this mode.
Strong mode: If you want to remove hard stains from your garments.
This mode is also capable to wash your household accessories like curtains, pillow covers, bed sheets covers, and other garments.
Roller Jet Pulsator
This Roller Jet Pulsator gives a better washing experience with the help of more rotation and friction.
Hard Plastic Covering
This LG is Covered with 3mm hard plastic and rat repellent chemicals. Even, you will never smell a rat.
Spinning feature
Spinning means a mixing up & a high spin means each of the molecules mixed into the water properly. Therefore, the molecules help in the better wash the clothes. All the better result because of 1350 RPM speed motor installed in this washing machine.
Washing machine dryer motor
Its dryer motor works very well instead of other conventional dryer motors. Sometimes we don't need to wash clothes. Just put it down into the water and go through for drying into the drier drum.
It can dry your clothes up to 60% after that you can hang out on the balcony's wall.
Advantages
Better washing performance.
Exclude the drier.
The large drum with full capacity.
Disadvantages
Wastewater pipe short as compare others.
Gedgetsworld's Recommendation
Which is the best fully automatic washing machine under 15000?
From the above list, Panasonic 6 Kg 5 star is the best fully automatic washing machine under 15000. With this washing machine, you can keep your stress about the stains away, as it performs 4 – 5 cycles of washing.
What is the best semi-automatic washing machine for 2021?
The Whirlpool 7.5 kg is the best semi-automatic washing machine under Rs 15000.
It comes with many mind-blowing features, and particularly, the 5-star rating helps you save more on power bills. Being 7.5 kg capacity, it is a perfect choice for even very large families.
Which is the best washing machine brand in India?
Related Post