Are you looking for the best Air Conditioner in India to change your Loving home into a hill-Station?
If Yes!
Then! You are in the perfect place.
Now, this is the peak time of summer (March to September) and the sun is getting spread out a nonstop fire in India. Therefore, installing the air conditioner is such a great option for you.
In this post, you can select the best 1.5 Ton Air Conditioners from the list of Top 11 best air conditioners in India under Rs 20,000 – Rs 50,000.
Best Air Conditioners in India 2021
Excitingly, this 1.5 Tons of split Air conditioners list, based on AC's key features, pons & cons, user's experience, Star rating, and of course budgets.
Besides, in this list, we have collected branded split ACs detailed knowledge.
This information not only helps to choose one of the best AC for your home but also upgrade your smart online buying skill.
We are strongly recommended you read Air Conditioner Buyer's guide to understand the mechanism of new generation AC.
Best Air Conditioner in India Under Rs 50,000
1. Hitachi 1.5 Ton 5 Star Inverter Split AC
This split inverter AC has a wide-angle deflation mechanism that distributes cool air far and wide in its 150 sq/ ft. Hitachi is providing innovative technological solutions in appliances that suitable for each of the customers.
Our testing unit performed excellently and also provided cooling R410a gas is not as modern as R32. Due to its global warming potential but has unable to affect the ozone layer.
Key Features:
Hitachi Split Inverter Air Conditioner
Auto Sleep Mode/ 5-steps Fan speed
Stabilizer Free Operation/ big flow deflector
Eco-Friendly Refrigerant gas R410A
Inner Groove 100% Copper bound
Cooling power consumption: 1450W
Koukin Filter/ Auto coil dry/ wave blade design
Weight: Indoor (13Kg) & Outdoor (32Kg)
Warranty: 1-year AC & condenser /10-years of the compressor
This air conditioner works on 4 powerful modes such as Fan mode, Dry mode, Cool mode, and the last one is auto mode. Best airflow control volume available 583 CFM with wide-angle airflow.
Hitachi 1.5 ton AC is a stabilizer free operation that protects your air conditioner from low & high fluctuations. When you switch on the button of AC.
After that, the current flows at just 6.6 amp of speed in this air conditioner. This is an expendable inverter air conditioner that has passed 43 quality tests.
The tropical rotary compressor that adjusts power based upon temperature. This AC consumes low energy & reduces the noise level.
Hitachi 1.5 tons AC is good for 200 square ft place. Best Power supply 230V / 50Hz & 1 phase.
The Consumption of electricity annually is 869 units.It's 5-stars with the best skill in its class ISEER 4.7.
No reduction of the ozone layer.
Hitachi split inverter ac is an innovative technology such as Tropical Rotary Compressor. You can sleep calmly because of a noiseless motor 33dB installed in this air conditioner.
Moreover, remote control technology & an LED Back lid available.
Advantages!
Despite a wide-angle deflector provides a more exceptional air distribution.
High-quality compressor for silent performance.
Energy-saving device.
Least cost of maintenance.
Disavantages!
Sometime it can issues by their customer service centre.
Best Air Conditioner in India Under Rs 45,000
2. Daikin 1.5 Ton 5-Star Inverter Split AC/FTKF50TV
Daikin 1.5 Ton 5-Star Split air conditioner is the most popular in India. Firstly, It is an energy-efficient & noiseless air conditioner.
The best thing about Daikin 1.5 Ton ac is their maintenance cost that is in the budget.
No need to pay any charges for maintenance. Just purchase and maintenance for 1st year without cost from the date of purchase.
It's full of automated inverter technology-based air conditioners. Here we are given the key features below.
Key Features:
Energy-efficient & 5-star rating
Less energy consumption
Better cooling solution
Weight: 32 to 35 Kg
Powerful chill operation
3D Airflow
Automatic inverter technology
AC weight: 11 kg
Control by Remote
noise level: 32dB
Refrigerant gas: R32 / Inside Stabilizer
Warranty: 1 year of AC & condenser/10 years on the compressor
This Daikin air conditioner is capable of maintaining the room's mood & pollution also.
There are temperatures that maintain technology uses to reduce warming molecules and make the atmosphere chilled like a hill station.
It is more energy-efficient and operates such as noiseless. As a result, reduce your electricity bill. This is the best technology air conditioner in India.
Annual energy consumption:767 units, ISEER (Indian seasonal energy efficient value): 5.33.
It has provided better cooling that requires little maintenance for operating the current 5.8 amp.
Some of the other features such as indoor stabilizer, Eco mode, indoor unit quiet operation, Canada airflow, electric cooling operation, etc available in this ac.
It means the environment friendly with no spread out ozone layer.
It has come with some advantages Such as indoor-outdoor units, remote controller, user manual, and warranty card.
Daikin 1.5 Tons is a super-efficient air conditioner that is individual control, flexible control, energy & cost saver.
Advantages!
Odor resistance.
Impact resistance polystyrene.
Self-test remote controllable.
Disadvantages!
Installation can be tedious.
3. Daikin 1.5 Ton 5 Star Inverter Split AC/FTKG50TV
The latest DAIKIN 1.5 Ton Inverter 5-Star FTKG50TV Split AC creates a calming atmosphere for ultimate relaxation and comfort.
The 1.5-ton air conditioner capacity & cooling efficiency is for a medium area that makes you feel like a hill station in your living room.

The self-diagnosis function is handy and ensures that you are not hindered during cooling. This AC consumes less power and saves energy.
Key Features
Air conditioner mode: Sleep new dry mode
Inverter Technology & inside stabilizer free operation
Adjustable temperature: -50°C (cooling)
Self-diagnosis air conditioner feature
Copper pipe and Copper bind condenser
3D airflow with anti-microbial Filter
Warranty: 1-year AC & condenser/ 10 years of the compressor
Coanada airflow & power chill operation
Indoor & Outoor weight: 11Kg/ 36Kg
The Daikin ac works on swing compressor technology which helps to reduce the noise and vibration. It also feels like the sound of silence in your room while running.
It has produced fewer noise levels such as indoor or outdoor noise units is 40 dB/ 54 dB.
This AC is equipped with more advanced features such as auto-restart with memory function, LED-Backlit, child lock feature, etc.
Daikin 1.5 ton split AC/FTKG50TV is the best air conditioner in India for your beautiful home.
It has a variable speed compressor which adopts electricity to load heat. This ac is more energy-efficient or running noiseless mode.
On the other hand, this ac is 5-stars annual energy consumption as per the energy label is 824 units. Better cooling and less maintenance are required.
Some other Features: Silent mode, Eco mode, indoor unit quiet operation, R32 refrigerant gas. There is no possibility of ozone depletion.
At the time of the purchase, you will get an indoor unit and an outdoor unit.
Other accessories are available such as a wall mount kit, Remote control battery, Remote controller, Connective pipes, and other installation kits.
Advantages!
Silent and powerful operation.
Energy-saving functions.
Can handle excessive voltage fluctuations.
Outstanding performance.
Disavantages!
Can only be operated by remote control.
The problem may occur when the remote control battery runs out.
Best Air Conditioner in India Under Rs 40,000
4. LG 1.5 Ton 5-Star Inverter Split AC/ LS/Q18YNZA
LG has managed to conquer the Indian market for consumer's durability, on the other hand, no other brands did it. Due to its reputation, LG has the best air conditioner in India.
It is a dual inverter air conditioner that comes with high speed & a wide rotational motor.

This LG 1.5 inverter split ac with inverter compressor is less energy consumption that spread out cooling for long-range as compare to other conventional compressors.
This is a noiseless ac that cools faster & better design for your room/hall.
Key Features
100% copper with ocean black protection
Low gas detection & R32 Refrigerant gas
The high-temperature cooling score of 5
Warranty: 1-Year of AC & 10-Years of the compressor
4-in-1 compatible cooling
Suitable for medium size of the
Stabilizer free operation: 120V – 290V
Indoor/Outdoor weight: 11.5kg /32Kg
Noise Level: 31 dB
Presenting the new LG Air Conditioner designed to detect low gas levels & can also reduce the room's temperature & uncomfortable. Where each notification shows a low gas level.
The 1.5 Tonnage range AC is suitable for medium-sized rooms (180 square feet) 5-stars Annual energy consumption: 835.50 units.
DUAL inverter: Antibacterial filter; dehumidifier; EZ clean filter; Magic screen; Cool Himalaya, Automatic cleaning; Low gas detection.
R-32 means environment-friendly no spread out Ozone and less global warming.
It has used a 4-in-one convertible cooling technique for each of the seasons like unbeatable heat, spring, autumn & monsoon.
This feature comfortable for more crowed or fewer means auto adjustable.
Advantages!
The compressor binds with 100% Copper.
Star rating full 5-stars.
Compressor: Dual rotary/R-32.
Auto air swing.
10 years of warranty on compressor & condensers.
Disavantages!
Cost is main the concern.
5. Carrier 1.5 Ton 5 Star Inverter Split AC/ R32CAI18EK5R39F0
Carrier is a recognized brand that capable of delivering high-quality performance. This air conditioner comes with some cool features that make you comfortable. It is one of the best 1.5-ton separate ac in India 2021.

Carrier 1.5 ton ac has a variable speed compressor that adjusts the power according to the thermal load. Therefore, it's more energy-efficient and operates at the least noisy.
This is also operated at low voltage because equipped with this technology.
When only 190 voltage comes, it can easily operate to cool your room. As well as at high temperatures, this air conditioner can cool your room.
Key Features:
High Ambient Working: @52°C
Stabilizer Free Operation: @48°C
Voltage Operation: @190V – 280V
Compressors bind with 100% copper
Electricity consumed: 2600 W/hr
AC's weight: 12Kg
Warranty: 2 Years of Ac & 10 Years of Compressor
Powerful & Durable Design
ISEER Value: 4.62
This air conditioner is one of the most probable to work on low voltages & Air filter, dust purifiers that improve the air quality & prevents from bigger than PM 2.5 air molecules.
The stabilizer can maintain the proper voltage and save the air conditioner's life. There are more powerful features given below.
The variable-speed compressor adjusts the power according to the thermal loader. It is more energy-efficient and operates the least noisy.
1.5 Tons suitable for medium-sized rooms (111 to 150 square feet), Half Load capacity is (watt 2600).
While the best class efficiency the annual energy consumption is 871.07 units.
Carrier 1.5 ton ac is required for the little maintenance & better cooling for your convenience.
Equipped with an additional PM 2.5 filter which improves air quality by filtering PM 2.5 and other air pollutants to a certain extent.
Before purchasing each of the air conditioners. You need to know about its advantages & disadvantages.
Advantages!
High performance.
Environmentally friendly AC.
No stabilizer is needed.
Operate at low voltage.
Energy-efficient A.C.
Disadvantages!
Installing an AC is not free.
The unit is not supplied with a suitable copper tube.
6. LG 1.5 Ton 3-Star Dual Inverter Split AC/KS/Q18HNXD
let's presenting the new LG 1.5 Ton Inverter 5-Star KS-Q18HNXD Copper Split AC with a traditional cooling system that brings comfort and style to your home. This ac is most useful to ensure the operation.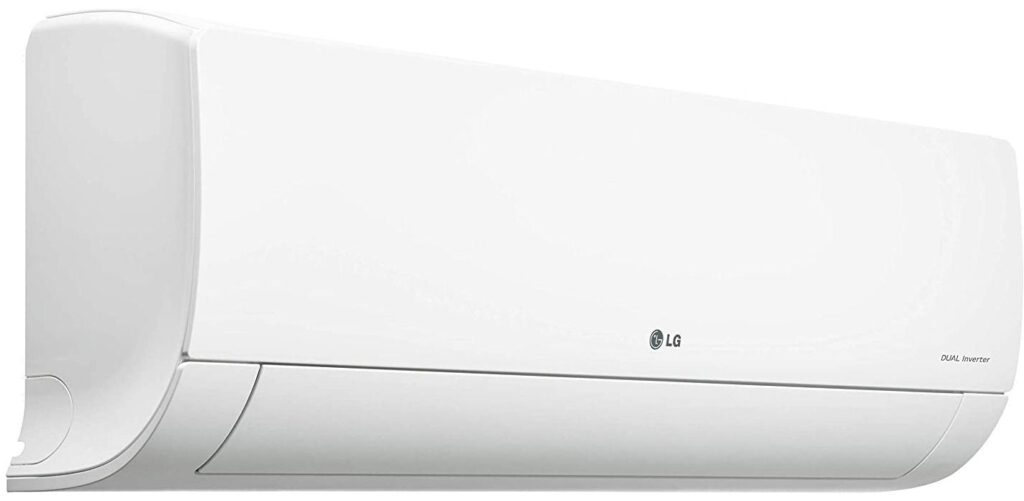 Its dual inverter compressors with dual rotary motors & different speeds have a wider rotation frequency. It saves more energy and a higher cooling range than other compressors. L.G is the best technology air conditioner in India.
Key Features:
The compressor binds with 100% copper
Dual inverter compressor
Auto-Air Swing System is available
Cooling like Himalaya @52° C
Magic display / HD filter
Electricity-consuming capacity: 5100W
AC's weight: 12Kg (approx)
LxWxH: 21cm x 100cm x 33cm
Sleeping mode & Smart Diagnosis System Available
Warranty: 1-year product & 10-years of compressor
Especially, L.G dual inverter equipped with Ocean black protection. It means protecting from pollutions at both places such as indoor or outdoor for air conditioners.
In India, there are more Population and Pollution, for example, sand, Industrial smoke & other foreign particles. This air conditioner prevents 99% of other pollution.
We are facing these problems every day, but Ocean black protection has a solution to solve their problems.
Electricity plays a major role in running all home & kitchen appliances. Each of the companies manufactures all appliances to be less consuming of electricity.
L.G Dual Inverter consumed 40% less energy means to reduce the cost of your electricity bills.
This L.G 3 star is silent dual inverter ac. It is also available to comfort the air zone. Ac size is Indoor (W/H/D) (998/330/210) & Outdoor (W/H/D) (770/545/288).
Weight (Indoor) 12Kg (Outdoor) is 32Kg. There is an auto-clean system installed in this air conditioner.
Advantages!
5-star AC that proves its worth.
Stabilizer-free operation.
Ideal for the home in coastal areas.
Work efficiently even when the temperature is around 52° C.
Disavantages!
There is no 4-way swing.
Old-fashioned remote control.
7. Panasonic 1.5 Ton 5-Star Wi-Fi Twin Cool Inverter Split AC/CS/CU-NU18WKYW
To beat the heat, an air conditioner should be installed at home. Power consumption should also be kept in mind while purchasing the Panasonic 1.5 ton air conditioner.
MirAIe air conditioner is comfortable, convenient, or connecting from Wi-Fi technology. It has an energy rating of 5 that saves 60% more electricity than other conventional AC. It is a type of capacity.
Key features:
Panasonic Split AC Twin Cool Inverter
100% Copper coil Condenser
Operating temp range: @16-52 °C
Operating Volt range: 145V – 285V
Shield blu technology/ Temperature Indicator
Remote control means Wi-Fi connected
Warranty: 1 Year of Ac & Condenser, 10 Years of Compressor
It has adjusted the temperature automatically without disturbance in your sleeping at midnight. Also, compatible with Alexa & google assistant command for your comfort.
It can easily control without any disturbance with just one click. It has an available one-click service request & a smart diagnostic system.
Panasonic 1.5 Ton AC suitable for medium-sized rooms. 5 stars rating annual energy consumption: 840.75 Unit & ISEER rating point 4.7.
Size of the AC Outdoor is 78 x 24 x 57, Indoor weight: 11 kg; Outdoor weight: 27kg.
Better cooling and less maintenance are required. Refrigerant gas: R32. No ozone-depleting potential.
Shield blu technology means to the combination of air and water particles called hydrophilic droplets. Blu shield coated with a layer that protects the fings of this air conditioner.
Advantages!
PM 2.5 Filter purifies the air.
High temp 52°C adjustable.
Wi-Fi technology remote control.
Consume less electricity than others.
Disavantages!
Large size AC.
Maintenance may be your concern.
8. TOSHIBA 1.5 Ton 4 Star Inverter Split AC/RAS/18BKCV/IN
Wow! Groundbreaking inverter techniques such as pulse amplitude modulation and pulse with modulation ensure that the room offers the highest level of comfort through better and faster cooling.
Toshiba air conditioner has developed a unique self-cleaning mechanism that allows working on the fan in fast mode for 20 minutes. After that, the AC will turn off automatically. It prevents dirt & moisture in the unit.
Key Features:
TOSHIBA 1.5 Ton Capacity with 4-Stars rating
Rotary Compressor + 100% Copper Bind
Warranty: 1-Year condenser & 5-Years Compressor
Remote control technology
Inverter & dust filter is available
Room size: (110–150) sq/ft
Operating Voltage: 175V – 285V
Auto-cleaning technology/ Refrigerant gas R410A
Weight of AC: 57Kg/ Noise level: 35dB
Before purchasing Toshiba's air conditioner you need to know about some specific features such as warranty, temperature controlling power, Inverter technology, etc.
After grabs, all the features which come you in the list of smart customers. It will beneficial for you while shopping. We have given Key features for your convenience.
Toshiba air conditioner has a variable speed compressor that adopts electricity to reduce high temperature's heat. Toshiba 1.5 tons AC for medium size room (111 to 150sq/ft).
It is 4-stars High energy efficiency. This air conditioner consumes electricity annually approx 1042 units. The value of ISEER is 4.
While running the AC, it can create a little noise. The Indoor & Outdoor noise level is 39 dB /50 dB.
It's equipped with some more advanced features such as auto-restart, auto-air swing, speed setting, and dust filter.
Advantages!
Better cooling performance.
Taken a little space.
Great airflow.
Incredibly quiet.
Disavantages!
Not available in-build stabilizer.
Sometimes the installation fee can be high.
Best Air Conditioner in India Under 35,000
9. Voltas 1.5 Ton 3 Star Inverter Split AC/183VCZS
Volta's air conditioner is the best in Indian. It comes with all the features needed to deliver high-quality performance. Their inverter technique can perform high-speed.
When you take breathe, it helps to make fresh your climate because of their CO2 reduction technique.
This technique keeps the power consumption to a minimum by maintaining an ideal temperature without closing the compressor.
Voltas VCZS is a 3-star & 5-ton air conditioner available in an instant cooling compressor.
Their compressor is high EER rotary BLDC types means instant cooling & fast functioning.
Its condenser 100% coiled with copper that helps to consume less energy.
Key Features:
Eco-Friendly Refrigerant: R32 gas
Condenser coiled 100% Copper
Maximum operating temp:

52⁰C

Voltage operating temp: 145V-270V
LED Remote operation is available
Weight Indoor & Outdoor: 14Kg & 29Kg
Warranty: 1-year AC & condenser/ 5-years on compressor
When you sleep at midnight, this machine helps to make comfort you with its features such as auto swing mode, sleep mode, and auto-restart.
There is some extra feature which is given below.
Turbo speed, self-diagnosis, timer set alarm & child lock feature are very helpful to reduce your time or unnecessary efforts.
Voltage 1.5 ton AC's variable-speed compressor is adopted electricity to reduce heat. Their entire mechanisms are made up of 100% copper aliment.
It also consumes less energy and reduces the level of noise because already installed a silent compressor.
The voltage air conditioner is environmentally friendly & compatible with R-32 refrigerant gas.
This gas neither destroys the ozone layer nor increases global warming.
Its noise level indoor is 45 dB & the outdoor 60 DB. When you come to nearby Voltage AC, feels high volume airflow that is 950 CMH (indoor).
Now enjoy your superfast air flow air conditioner.
Advantages!
Good for Indians.
Perfect size for your home wall.
Silent and auto-swing mode.
Great airflow.
Incredibly quiet.
Disavantages!
There is no stabilizer in this AC.
No copper wiring in the fences.
Installation cost high.
10. Whirlpool 1.5 Ton 5-Star Inverter Split AC 1.5T MAGICOOL PRO 5S COPR INVERTER
Whirlpool 1.5 ton inverter split air conditioner is known for performing in the most adverse conditions. The company can also be expected to bring a level of excellence to its AC brand.
This AC comes with 6th Sense Fast Cooling technology that ensures fast cooling in the room.
Key Features
Intelligent sensing inverter technology
6 sense Fast Cooling Technology
Condenser binds up 100% Copper
Air conditioner Weight: 51Kg
Stabilizer Free voltages: (145V – 290V)
Maximum Operating temperature: 55°C
Stabilizer free operation: (145V – 290V)
Warranty: 1-year AC/ Condenser & 10-years compressor
It has provides 60% faster cooling than the other conventional air conditioners. Whirlpool air conditioner is the best in India and most prominent.
It has use 3D auto swing technology that meant to comfortable air swing at any corner of your room or tiny hall.
This air-conditioner having an R-32 eco refrigerant technique. Its advantage of consuming less energy & 0 impacts on the ozone layer.
It also provides a higher cooling capacity for users.
Advantages!
Value for your money.
Excellent cooling performance.
Advanced technology for quick cooling.
Disavantages!
The remote control can create issues sometimes.
Best Air Conditioner Brands in India
DAIKIN
Daikin Industries Pvt. Ltd is a Japanese multinational air-conditioning manufacturer. It's headquartered in Osaka (Delhi).
It's one of the old Japanese companies in India.
They are mostly operating in Japan, China, Australia, the United States, India, Southeast Asia, Europe, the Middle East, Latin America, and Africa.
An innovator in the split air conditioning market that created the first split and multi-split air conditioners.
Daikin coded the R-410A refrigerant with a carrier.
LG
Firstly, L.G is the most popular brand & manufactures the best air conditioner in India. It's a South Korean multinational electronics company.
It's headquartered present in Seoul (South Korea).
LG Corporation has been spread out in India since 1973. Its worldwide revenue was $ 60.76 billion in 2018. It has 4 business units such as Home Entertainment, Mobile Communications, Home Appliances, and Air Solutions.
It has the last Vehicle Components for India station as the main manufacturing supplier of refrigeration and washing machines in the Indian subcontinent.
CARRIER
Carrier Global Corporation is an American company situated in Palm Beach Gardens, Florida.
It has been expanded to produce commercial refrigeration & food service including fire and safety tools.
By 2021, it was an $18.6 billion company, with more than 53,000 employees in 160 countries across six continents.
HITACHI
It is a Japanese multinational manufacturer company. They're headquartered in Tokyo (Japan). It's a parental company of Hitachi Group (Hitachi guru).
It became part of Nissan Zaibatsu later DKB Group companies before DZB merged with Mezzo Financial Group.
PANASONIC
Panasonic (Matsushita Electric) was founded in 1918 by Konusuke. Matsushita is a seller of duplex lamp fittings.
Inspired by Sony's daring quest for Hollywood, Matsudo believed it could also become a leader in the film industry.
TOSHIBA
Toshiba Corporation is also a Japanese multinational company. It's headquartered present in Tokyo.
Its diverse products and services including the electrical industry, social infrastructure systems & electrical systems.
Toshiba is Japan's household company. Basically, It is seen as a symbol of the country's technical prowess.
Its reputation waned badly after the 2015 accounting scandal and Westinghouse's bankruptcy in 2017.
VOLTAS
Voltas Limited is an Indian home appliance company. This company specializes in air-conditioners and refrigeration technology.
The company is broadly structured in projects and products. It has joined Mumbai on September 6, 1954.
It has collaborated between Tata Sons and Volker Brothers. Voltas has completed several international projects up to date. It has included the world's tallest building, the Burj Khalifa.
Once the largest ocean liner, RMS Queen Mary 2, the Palace of the Sultanate of Oman, Bahrain City Center Mall, and Ferrari World Theme Park in Abu.
WHIRLPOOL
Whirlpool is an American multinational corporation. This is a marketer of home appliances and they're headquartered in the USA.
The Whirlpool company mainly focuses on market products such as Kitchen Aid, Gladiator Garage Works, Estate, Bra stump, Bauknecht, Ignis, Andesite, and Consul.
Best Air Conditioner in India 2021 – Buyer's Guides!
Choosing the right air conditioner in India for home and office is a difficult task.
Some air conditioners are energy efficient, some perform very well, some provide better cooling than others, and some even have all the functions.
So which one to choose is quite difficult. It requires a lot of consideration to buy the best AC but you probably confused.
There are many brands and models with variable features and functionalities.
Everyday air-conditioners' demand getting increases. Before purchasing a brand new AC, you need to know how it works.
What is the best technology installed in your air-conditioner to make you comfortable?
How Air Conditioner works & why should You purchase it?
When it comes to keeping the cold air in the house, the refrigerant isn't the single factor. The air conditioner treats air itself by removing unnecessary wet.
Humidity– The amount of water vapor in the atmosphere is the physical holder of energy.
It creates a Muggy feeling in the house in order to rid the air of this wetness. The air conditioner creates a wet hole.
You know the air conditioner method keeps the house or office cold in the warm summer months. Have you always wondered how it works?
One interesting concept you might not realize that the air conditioner and refrigerator business primarily the one way.
The difference is the refrigerator cools in a tiny insulated place.
The air conditioner holds the house, office, or trade areas comfortable from the temperature.
Today's air conditioner allows householders to automatically keep the temperature at their home. From the cell phone.
It detects when the house person leaves, return, and adapts the air conditioning accordingly.
The usage of energy will be dropped by 40% that decreases the electricity bills.
It's also pitched their device, the comfort, and a means to make households more comfortable.
Inverter AC Vs Non Inverter AC
A big difference between inverter or non-inverter ac is their motor. Inverter ac has a variable compressor with better speed.
A non-inverter air conditioner has a fixed compressor motor speed. It means the inverter compressor ac operates better speed than the non-inverter air conditioner.
The sensor in the inverter ac adjusts the power according to the temperature that reducing the electrical demand and saving a life.
In the nutshell, inverter air conditioners are the advanced mechanism that utilizes a controlled compressor while non-inverter air conditioners have been by the default compressors.
Usually, it's less expensive and much more common.
Though they may seem similar, inverter aircon and the non-inverter aircon are distinctive from each other in the myriad of ways suggest functionally. How each unit actually works its built-in features and more.
Types of AC Compressor & Condenser.
Compressor Plays a major role in an Air-conditioner. This is the backbone of ac. You need to check the best compressor before decided to purchase the best air conditioner for your lovely room/hall.
Here we are given the best information of the top 5 air conditioner compressors that crystal clear your doubts.
1) Scroll AC compressor.
Firstly, you have seen a scroll air conditioner compressor installed in the L.G air conditioner. There are two coiled available in this compressor which is called a scroll.
One scroll is fixed in the center & second coiled rotate nearby first or compresses it.
The second coiled is more reliable because of the reciprocating compressor which is unmovable.
2) Screw AC compressor.
Screw air conditioner compressor using of cooling of the central hall. It's extremely reliable & efficient because installed their two helical rotors.
These helical rotors help to cool air moves from one place to another.
The screw ac compressor has an automated swing sir system which reduces the loading on the compressor to heat up.
3) Reciprocating ac compressor.
Most popular ac compressor. This ac compressor presented a piston into a cylinder which compresses the air ups and downs. When the piston got down.
It works like a vacuum effect that sucks the air into the refrigerant.
While the piston got ups, gas moves into the condenser by the compressor. So this compressor work in your concern.
4) Rotary Air-conditioner compressor.
This type of compressor installed in that ac who requires a silent/noiseless air conditioner for their lovely house. The rotary air conditioner compressor having a shaft with some blades.
These blades rotate into the cylinder where shaft blades already attached.
It also compresses the gas refrigerant through the cylinder.
5) Centrifugal air conditioning compressor.
Centrifugal, as the name, clears all the things.
This type of compressor installed in that ac who requires a large location/area or a hall.
This is known as the central air cooling system. It uses centrifugal force to pull the refrigerant gas compressor through the cylinder. It's the most popular air conditioning system.
Best Air Conditioner in India – Frequently Ask Questions?
Which is the best AC brand in India?
There are several brands that are very popular in India. Only a few brands serve the best service in air conditioning sectors such as L.G, Voltas, Hitachi, Panasonic, Samsung, Godrej, Daikin, etc.

New companies like TCS and IBF also coming into the ac segment.
Videocon is one of the most popular groups in India but there are some management issues facing the company.

TCS & IBF creating the new dealer, distributor or super stockiest means focus to make a better supply chain in the market.
Now, you can buy L.G, Voltas, Hitachi, Samsung, Daikin, Panasonic brands. Other brands are price-wise better for each person.
What types of AC consume less Energy?
Consuming electricity is more likely to depends on the capacity of the ac and its tonnage.
When you purchased more tonnage ac, it is obviously your ac consume more energy. Want to reduce the electricity bills by using your favorite ac.

You need to understand the star rating concept.
One star rating consuming more energy than five stars.
Five-star ratings consume the lowest electricity and reduce your monthly electricity bills.

If you are consuming less electricity oriented then you need to purchase five stars or inverter splits air conditioners.
How can I maintain our AC for better performance?
Everything, in this world, need maintenance for better performance. The air conditioners maintenance of its filters, coils, & fins which require trice in a week.

Air Conditioner Filters

Filter that clearance of airflow, smoke, pollution, dust, and other harmful air waste. It has worked to purifies the rooms' climate.
In this polluted world, human beings need pure or fresh air for better health.

You need to clean the filter trice in a week that provides better performance. Sometimes with the help of a brush or cotton cloth.

Air Conditioner Coiled

The air conditioner evaporated coil is known as the core, in the AC's system observe the heat by refrigeration. It's near the blower fan or air handler.
AC coils are set into the panel where the U tube bend. You need to clean it or help from the experts.

Air Conditioner Condenser

Basically, it has work to transform the heat or high temperature into cooling or liquid. It helps the ac to maintenance the temperature or avoids increasing the temperature of the ac.
How to Reduce Energy Cost?
Take some small steps to save more than 50% of electricity.

1. every month you should service your air conditioner that reduces your electricity.
2. purchase automated on/off switch mode inverter air conditioner system.
3. before starting the air conditioner, firstly closed all doors/windows.
Conclusion!
In this post, team Gedgetsworld has given detailed information about the best air conditioner in India. Each of the detailed information analyzed by Gedgetsword's Products Experts.
Hope you enjoy this article.
If want to give some suggestions, you can comment on us. Also, share our article if you get the solution about the best air conditioner.
Did you like it & is it really helpful for you, if yes then share with your loving people, or if no then comment with us?
Thank you for giving your valuable time. Your like, Share and comments on our motivation. Have a good day!
Related Post