In the times of technology, India is quite ahead compared to the other countries.
Now we have many innovative technologies to make our life simple and comfortable.
But still, there are various places in India where frequent power-cuts are major problems. Especially, in towns and villages, where power goes for more than 8-10 hours.
Not only rural areas but urban and suburban areas witness this problem too. So, it becomes necessary to the people who witness frequent power cuts to have a backup of power supply to use it during power sheds.
Now, we have many resources to fulfill our needs in the time of unannounced power-cut, but everything has its own advantages and disadvantages.
These days,
inverters
are the basic solution of this problem.
They are really effective as they have an alternate power back system, which can provide 5-12 hours of continuous power supply during an unannounced power-cut.
So it is necessary to know more about their features before buying one, because they are the long term investment. So, give us a chance to find your best inverters brand in India.
Here we are discussing the 12 best Inverters in India also with their reviews & a detailed guide. So please go through our informative article to get in-depth knowledge about the best inverters brands.
We recommend you read the Buyer's Guide of Inverter Battery that will definitely help you to get in detailed knowledge and take better decisions.
Best Inverters in India 2020
1. Luminous Zelio+ 1100 Home UPS Inverter
In this digital era, we want to control each of the devices with our smartphones. Then, why not an inverter too? Yes, Luminous Zelio+ can be wholly operated by a smartphone with Bluetooth connectivity.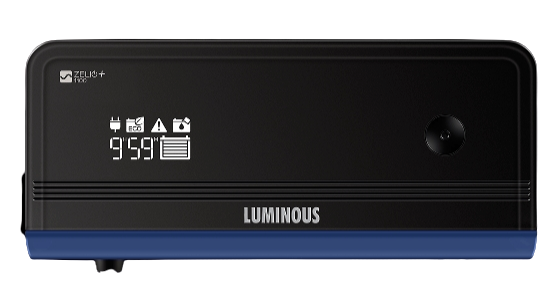 Key Features
Type: Pure Sine Wave Inverter
Frequency: 50Hz
Voltage: 180V to 260V
L×W×H: 36×35×20cm
Weight: 10.65 kilograms
Backup time: 7 to 12 hours
Price: ₹ 5,300 (Approx)
And Warranty: 2 years
It is a pure sine wave inverter and can be uses especially in households and offices with a perfect combination of 150AH battery. The black and blue finishing of this inverter looks so magnificent, that it gives the inverter a premium look.
Zelio+ has a smart display that shows the status of time in hours and minutes and also battery level that provides good help for your daily usage.
It can support up to a 220AH battery. This inverter is available in 2 ranges such as 900VA and 1500VA.
Hence, It comes with MCB protection and has a 32 bit DSP processor that keeps your appliances protected from overload, electricity discharge, short circuit, and deep discharge of its battery. And also has a bypass switch that makes it one of the best inverters in India.
The Zelio+ has a low harmonic distortion feature that helps it to carry out the whole process noiselessly.
In addition, it supports a wide battery range like Flat plate battery, Tubular battery, and SMF (Sealed Maintenance Free) battery and provides a backup of 7 to 12 hours.
So the inverter can provide uninterrupted power to your TVs, refrigerators, home theatres, chimneys, and fans. Also, Zelio+ gives long and healthy life to battery and UPS. This is why it is the best Best inverter for home use in India.
Advantages!
Operates noiselessly.
Available in online shops
Intelligent inverter
Disavantages!
Not always available in nearby shops.
Not recommended for the place where power goes for more than 6 hours.
2. Amaron Hi Backup UPS Inverter
If you want a new generation inverter for your home or office at an affordable price, then take a look at Amaron hi backup pure sinewave inverter. Because it supports all kinds of electrical appliances.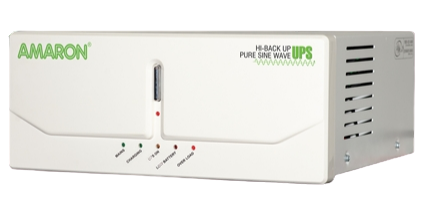 Key features
Type: Pure Sinewave Inverter
Frequency: 50Hz
Voltage: 230V
L×W×H: 12×12×8cm
Weight: 12 kilograms
Backup time: 4 to 10 hours
Price: ₹ 5,900 (Approx)
Warranty: 2 years
Amaron has a special Smart i-DSP technology that protects your sensitive electronic gadget. And the blown fuse alarm feature shifts automatically to the bypass switch for continuous power supply. Thus, protects the inverter.
This inverter works on 880VA capacity. So it provides brilliant power back for all your appliances. Now, get some relief from power cuts because this inverter allows all the appliances to run for quite a long time.
It comes with perfect LED indications for easy operations and a good battery backup of 4 to 10 hours. Besides, It is completely noiseless that you won't even notice the power cuts.
This device has visual indicators and an alarm for system overloads that alerts you whenever there is an overload and resets itself automatically.
This inverter charges very quickly and efficiently and also alerts you on low battery. It also has quick charging and normal charging mode as per the frequency power cut in your place.
Overall, Amaron inverter will suit you well for its features like quick and normal charging mode, i-DSP technology, LED indications, and smart transformer. Although, Amaron Hi Backup UPS inverter is considered as one of the best inverters in India with 2 years of warranty
Advantages!
Quick charging
The overload alarm protects it by resetting the inverter
Less power consumption.
3. Microtek Hybrid UPS Inverter
The Microtek UPS hybrid inverter is an admirable inverter that comes with an ergonomic design that looks so elegant and sophisticated. And its durability and long-lasting power make it capable of home and office uses.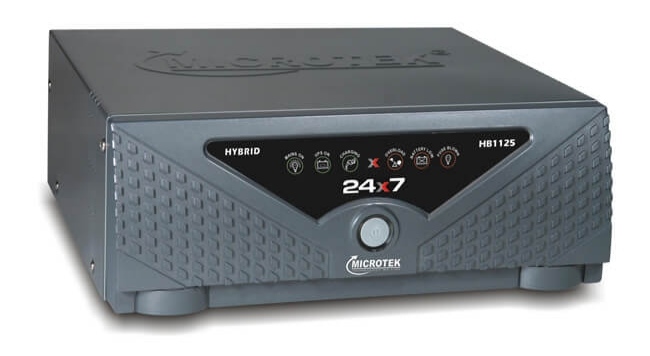 Key Features:
Type: Pure Sine Wave Inverter
Frequency: 50Hz
Voltage: 230V
L×W×H: 35.6×51.6×38.1cm
Weight: 9.8 kilograms
Backup time: 6 to 10 hours
Price: ₹ 5,200 (Approx)
Warranty: 2 years
It is fully made of plastic and new hybrid technology. And this hybrid technology operates the inverter noiselessly and enhances battery performance with longer backups.
It is a pure sine wave inverter and has a 950VA capacity of rated power. It doesn't even fluctuate during power cuts. And its digital display indicates both output voltage and input voltage.
The Microtek Hybrid inverter prevents power fluctuations in your appliances. And the power-saving technology of its inverter provides you high performance. It even runs on loads of refrigerators and big-screen TVs.
Although, this inverter is compatible with all your electronic devices. It supports 220AH flat plate and tubular type batteries. Definitely, it is one of the best inverters in India in 2020 for your home.
The Intelli Battery Gravity Management affects its performance with long battery life. Also, the Bypass Switch provides a direct supply of power even if there's any fault in it
The PWM (Pulse Width Modulation) technology keeps your sensitive appliances from higher loads.
Advantages!
Packed with IBGM, PWM, and Hybrid technology.
Lasts long with massive durability.
Enhances battery performance.
While power cuts, it cuts the grid supply automatically.
Disadvantage
A little bit noisy.
Battery backup is no so good compared to other company's inverter.
4. Exide Inverterz GQP UPS Inverter
If you need an inverter which provides good battery backup in affordable price, then Exide Inverterz GQP should be your first choice. Because It is specially designed for people who suffer harsh power cuts.
Type: Pure Sine Wave Inverter
Frequency: 50Hz
Voltage: 180-220V
L×W×H: 27×12×29cm
Weight: 9 kilograms
Backup time: 9-12 hours
Price: ₹ 4,700 (Approx)
Warranty: 2 years
Electricity is still a very big problem for rustic areas. Where the light goes for a longer period and comes for a shorter period. Especially, the Exide Inverterz inverter will fulfill these kinds of needs.
It comes with 1050 VA rated power which quite high for this kind of inverter. And the technology used in this inverter provides long battery backup which can be charged in less time.
It can be easily operated by its LED/LCD indications. Along with this, it also shows voltage and frequency rates. And in case of overload, it automatically goes off.
It can be used for various appliances such as tube lights, CFL, fans and all. So this is one of the best inverters for your home, with 2 years of warranty.
Due to its pure sine wave technology, it keeps your sensitive appliances safe from surges, overloads, and short circuits.
Advantages!
Keeps your appliances protected.
LED indications for easy operations.
Long battery backup.
Disavantages!
Could have been a bit cheaper
Not recommended for heavy appliances.
5. Luminous 2 KVA UPS Inverter
Have you ever imagined running appliances like AC on an inverter? No? So it's not science fiction anymore.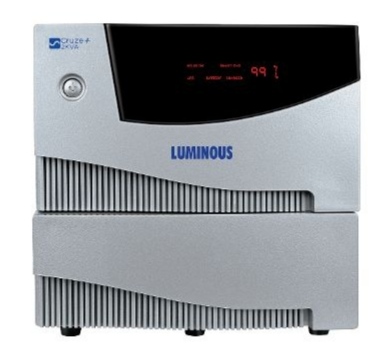 Type: Pure Sine Wave Inverter
Frequency: 40-60Hz
Voltage: 220V
L×W×H: 44×35×30cm
Weight: 20.61 kilograms
Backup time: 6 to 10 hours
Price: ₹ 10,700 (Approx)
Warranty: 2 years
The Luminous presents you a new 2 KVA UPS Inverter which can run on the loads of air conditioner, dental chair, photocopier, petrol pump, printer, refrigerator, water pump, deep freezer, water geyser. Mind you, the loads can run only one at a time.
Surprised? That's not all. This one is so bulky and has doubled weight compared to other inverters.
It safeguards your appliances from surges, short circuits, battery overcharge, and battery deep charge. The KVA also has other heavy variants. Its display shows battery level, mains availability, charging, notifications, and alerts.
Basically, It comes with ABCC technology. This technology helps to increase battery life and its performance. And it's completely noiseless. A really heavy duty inverter with 2 years of warranty.
Advantages!
Highly powerful. Complete protection for appliances.
Completely noiseless.
ABCC technology for battery.
6. Luminous Eco Watt+ UPS Inverter
Luminous Eco Watt+ has a tagline of India's No.1 UPS inverter.
Type: Pure Sine Wave Inverter
Frequency: 50Hz
Voltage: 220V
L×W×H: 36 x 35 x 20 C.M
Weight: 9.6 kilograms
Backup time: 8 to 12 hours
Price: ₹ 3,600 (Approx)
Warranty: 2 years.
This inverter is said to be an eco-friendly inverter which consumes less electricity to charge the battery and is shockproof. You don't need to bother about long electricity bills, because this inverter will live up to your expectations.
The Luminous Eco watt+ comes with a simple navy blue and white design and also can be supported by a wide range of batteries. It's UPS mode provides an uninterrupted power supply to your computer and is a worthy inverter for your home.
It can run on loads of 3 fans, 3 bulbs, and 1 TV. Another it enhances your battery's life and provides quite good battery backup with 2 years warranty.
It is also available in many ranges, you can buy anyone as per your appliance's loads.
True, that its tagline says it all.
Advantages!
Less power consumption.
Supports a wide range of batteries.
Shockproof.
Disavantages!
Not always available online stores.
Not recommended for office use.
7. Luminous Zolt 1100 UPS inverter
The Luminous Zolt 1100 Inverter UPS has a capacity of 900 VA rated power. With the battery support of 220 AH as well as has a quick charging system. The completely charged battery gives the back up of more than 4 hours on full load as it is featured with 32 bit DSP processor.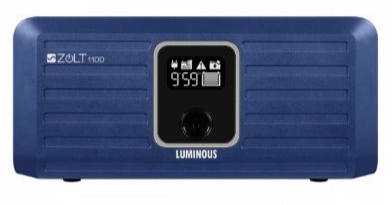 Type: Pure Sine Wave Inverter
Frequency: 50Hz
Voltage: 220V-230V
L×W×H: 34×19×35cm
Weight: 10.7 kilograms
Backup time: 6 to 10 hours
Price: ₹ 4,900 (Approx)
Warranty: 2 years
It has a comfortable digital display with friendly features that makes it easy to use. Its unique LED display indicates battery level, charging time, backup time and system fault. Moreover, the Luminous Zolt sine wave technology makes it noiseless that you won't even notice if it's running.
Its body is made up of polypropylene plastic which prevents it from shocks and leakages. The Zolt has a safety alarm that will buzz in case of a short circuit and water indicator that will tell you that you need to refill it with water.
Additionally, It provides the same current frequency as your household power. It comes with 2 years of warranty. The heavy look of this inverter ensures that it can bear loads of things like; water coolers, irons, LED TVs, refrigerators, Chimneys, etc.
If there's any fault in it, the bypass switch ensures direct supply of power from mains.
Finally the Luminous claims it one of the best inverters for your home.
Advantages!
Packed with safety alarm.
The water level indicator feature.
If there's any fault, the bypass switch ensures direct.
supply of power from mains.
Disavantages!
If the main supply is switched off, then it's UPS light keeps flashing.
Could have even more features in this price range.
8. Microtek EB 800 VA UPS inverter
Microtek EB 800 is a low budget square wave inverter with micro controller design. Square wave is the first technology of inverters.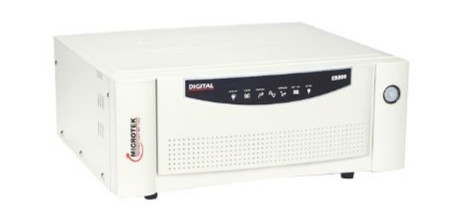 Type: Square wave Inverter
Frequency: 50Hz
Voltage: 180V-230V
L×W×H: 15×30×16
Weight: 8 kilograms
Backup time: 8 to 12 hours
Price: ₹ 3,400 (Approx)
Warranty: 2 years
The Microtek WB800 inverter is especially recommended for the places where power goes for a longer time and comes for a shorter time.
It comes with friendly features like a voltage range section switch so that can be operated easily and has a backup time of 8 to 12 hours.
It comes with an LED that shows Mains status like UPS on/off, charging, overload, battery low, and fuse blown. The fuse blown feature beeps whenever the fuse is blown. It can withstand up to 800 VA load also with an 80-200 AH battery.
It's UPS mode can bear loads of televisions and computers too and provides uninterrupted power supply. Thus, EB800 is quite a good inverter for offices and homes for normal uses, if you consider it's the price.
It has a special technology that protects your appliances from short circuit. It ensures a long battery life and restrains unnecessary power consumption. Although, square wave inverter is a bit old technology but its performance is somewhat like pure sine wave inverter.
Advantages!
Smart overload sense. Fuse blown feature.
Compatible for a wide range of batteries. Short circuit protection.
Restrains unnecessary power consumption.
No more heavy power bills.
Low budget inverter at an affordable price.
Disavantages!
Not recommended especially for heavy load appliances.
Other options also available with more features.
9. V-Guard Prime 1150 UPS inverter
V-Guard is a quite reliable brand which promises to provide best quality of inverters.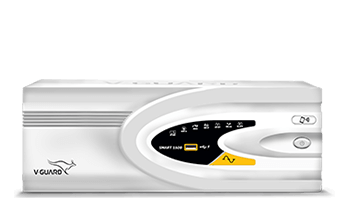 Type: Pure Sine Wave Inverter
Voltage: 90V-295V
Frequency: 47.53Hz
L×W×H: 25×12×27.5cm
Weight: 10.8 kilograms
Backup time: 8 to 12 hours
Price: ₹ 5,800 (Approx)
Warranty: 2 years
This inverter has an audio buzzing alert. However it is has a low impact on the electrical appliances, which means it doesn't provide the same frequency current as you usually get in your grid power. It also consumes less electricity for the battery to charge.
The Guard Prime 1150 is a pure sine wave UPS inverter that comes with a neat visual display for all the alerts and can use a compatible single battery of 230 AH with 1000 VA rated power.
It has a special technology of Battery Gravity Builder which gives it a long and healthy battery life. And it also protects your appliances from sudden discharge, short circuit, and overloads.
It also has an overload tripping switch. Whenever the inverter gets overload, this switch resets the inverter. This inverter also provides 8 to 12 hours of power backup during a power shed.
If you want an inverter for the domestic uses, then the V-guard Prime inverter is one of the best inverters. Because its UPS provides uninterrupted power to appliances like computers and TVs. The water topping reminder feature helps to avoid a last-minute fuss.
Advantages!
Best for domestic use.
Battery Gravity Builder which helps enhance battery life.
Available on both online and offline shops. Water topping reminder feature.
Disavantages!
Not available in other ranges.
Not recommended for office and industrial purposes.
Could have been a bit cheaper.
10. Su-kam Falcon+ UPS Inverter
Su-Kam Falcon+ is a pure sine wave intelligent home UPS inverter, which comes in a black & white shiny design and an LED display. The display has five indications that show; Mains status, battery charging, battery backup, overload, and power indicator.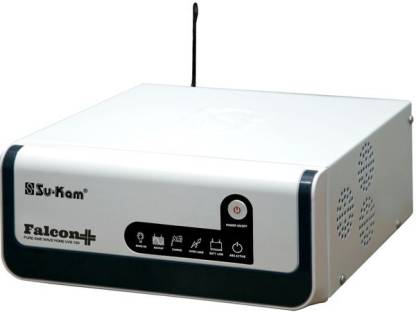 Type: Pure Sine Wave Inverter.
Frequency: 50Hz
Voltage: 230 Volts
L×W×H: 28×12.4×27.5cm
Weight: 9.6 kilograms
Backup time: 6 to 12 hours
Price: ₹ 6,850 (Approx)
Warranty: 2 years
There's also a special feature in Falcon+. Whenever it gets overloaded more than its rated load, the overload LED starts to glow with a buzzer beep. And when it detects the condition of overload, the system automatically goes off.
It is also available in 4 ranges; 750VA, 900VA, 1100VA, and 1600VA. However, the 1600VA version of this inverter needs two batteries.
Falcon+ has two options of battery low cut like 10.5V and 11V. It means, if you have set the inverter on 10.5V, then around 10.8V, it starts to indicate a low battery.
Moreover, Falcon+ can run on loads of 3 CFLs, 2 fans, 1 television, and 1 computer with a long battery backup.
Therefore, it is considers as one of the best inverters which comes packed with many features.
Advantages!
Offering power backup for 6 to 12 hours.
Coming with amazing features.
Available in 4 ranges.
Can be easily operated.
Disavantages!
Not available in every online store.
High price tag.
Some other companies also coming packed with the same features at less price.
Best Home Inverter Buyer's Guide – Things you need to know
We have shown you some of the best inverters for your home available in India for 2020. Now let us discuss about some facts that are necessary for you to know.
What is an inverter?
An inverter is a power electronic device that changes direct Current into Alternating Current at a frequency or voltage.
All your electronic appliances run on alternating current but when the power sheds, the inverter starts to convert direct current into an alternating current from the battery backup. So it results in your appliances work without any interruptions.

You can use the inverter at your home for all the appliances. And your inverter's battery size depends on your requirements.
video
If you want to use smaller appliances like bulbs, fans, and tube light then you can go for the inverter with the small battery capacity. But if you wish to use heavy appliances like the water cooler, microwave, mixer, TV, and computer then you should go for the inverter with the battery which has a bigger capacity.
Types of inverter
There are 3 types of inverter:

Pure Sine Wave inverter
Modified Sine Wave inverter
Square wave inverter
Pure sine wave inverter is using for heavy appliances like in a computer, microwaves, mixers/grinders, and television.
But modified sine wave and Square wave inverters are used for fans, CFL, LED lights, etc.
Note: The article includes pure sine wave inverters recommendations more than square wave and modified sine wave, as they are the older versions of inverters.
How to choose an inverter for your home?
There are various kinds of electrical appliances at your home. So let's have a look at some appliances which you commonly find in every house and their consumption of power and know their power consumption.
Electric bulb: Although, there are various kinds of bulbs that can be easily seen in every house which comes in 25, 40, 60, and 100 watts.
Television: In fact, depends on their sizes, LED/LCD TVs take up 50-150 watts.
Computer: Generally Computers take up to 120-250 watts. Whereas LCD takes 150 and CRT takes 250 watts.
Hairdryer: There are many hair dryers and every dryer has different watts. Generally, they come in 1000 watts ranges.
Fan: 70 to 90 watts (Approx).
Mobile charger: 5 watts or less, depending on the charger.
Tube light: Around 28 to 50 watts, or more.
Mixer and Grinder: 300 to 400 watts.
Induction cooker: Induction cookers are the high power consumable appliance that takes 1000 to 1500 watts.
Home theatre: Around 100 watts.
Air cooler: Around 250 to 300 watts.
Gaming console: around 100 watts.
Set-top box: There are various kinds of set-top boxes in the market. So if you are using a normal set-top box. Then it takes 8 watts, and HD set-top box takes 15-18 watts.
This table can help you to choose a perfect inverter for your home by calculating the watts of your appliances to the capacity of an inverter.
People do not usually run their appliances like heater, AC, water purifier, and refrigerators, so we haven't listed these kinds of appliances on this list.
How to choose a battery for you inverter
It is all influenced by your requirements. If you are using heavy appliances then you have to buy batteries with heavy ratings with your inverter.

If you have common appliances, then you can buy a tubular battery or flat plate battery. Tubular batteries have 20% more capacity and 30% long-lasting life than flat plate batteries.
Best Home Inverter – Frequently Asked Questions
1. Is it good to keep the inverter in bedroom?
The answer is no. The inverter should be placed in open spaces like a balcony or beside the window because it releases fumes of hydrogen and some other gases. So, you should keep the inverter in a place where you don't end up inhaling these gases.
2. Will I get the battery with inverter?
Though, every inverter needs a battery to operate. But the answer is no. So you have to buy them separately according to your requirements.
3. How will I know if the inverter is full charged?
Basically, you can check the battery status in the inverter's display. But Some inverter also has an alarm which indicates that the battery is fully charged. And some models also have overcharge protection.
4. How should I install the inverter?
Almost every inverter provides a service warranty but it doesn't help with the installation. Although an electrician can do it for you.
5. My inverter makes a 'tick' sound once during power cut. Is it normal?
Yes, it's totally normal. It is nothing but an indication that shows that the inverter is supplying the current from the battery.
6. Can I turn the inverter off?
Yes, you can. it's not that big of a deal. But turning off the inverter might not provide you power during a power cut. The only time you must turn off the inverter is while refilling the distilled water.
7. Sometimes my inverter make a 'beep' sound. Why is that?
There can be two or three reason for this:
When the inverter's fuse has blown.
In case, it gets overloaded.
When the battery level is low and it needs to charge.
8. What is the Difference between UPS and Inverter?
Most of the time, people get confused in UPS (Uninterruptible Power Supply) and inverter.
Though UPS and Inverter both have the same objective, they provide the backup of the charged power to the electrical system.
But the major difference in these two is that the inverter takes 100 milliseconds to supply the power in the electrical system.
Whereas, UPS switches battery supply power in 3-5 milliseconds. That's the reason UPS is considered better than an inverter as it is best for computers and TVs.
9. Which electronic appliances can I use on the inverter?
This entirely depends on the inverter. But you can run common appliances such as tube light, TV, cooler, fan, bulb, computer, etc. If you want to run appliances like a refrigerator and microwave, then you need a high rating inverter with a high rating battery.
10. What kind of batteries are there and which battery should I use for my inverter?
There are three kinds of battery:
Flat plate battery.
Tubular battery.
Sealed maintenance-free battery.
These are the three types of batteries that are available both online and offline. But every battery is different in the terms of price and backup time.
Normally, the price of the batteries is around 9000 to 2500. And every battery has a different capacity, So you can easily get to know their capacity.
No doubt, tubular batteries are more popular than the other two.
So you can choose a battery according to your appliance's load and its requirements.
11. How long can a battery and an inverter last?
A battery's life is about 3-5 years if you are using a common battery and it also needs to be charged every day. Whereas an inverter can last up to 8 to 10 years.
Read Our Recommended Article: Best Home Security Systems in India
Here are some of the best inverters in India, keeping your budget and needs in mind
Luminous:
Luminous is a powerful and trustworthy brand, especially known for its innovative products. The Inverters were so costlier in the early '80s that the cost around ₹ 50,000.
Luminous was an Indian company established by Rakesh Malhotra in 1988. But within 15 months, his inverters in the market were available for only ₹ 15,000.
Today, he supplies his products such as fans, inverters, batteries, and lights to 34 countries. As a result, Luminous became one of the globally leading brands.
Guard:
Quality and reliability are the main focus of the V- Guard company. It was established in 1977. At the age of 27, Mr. Kochouseph Chittilapilly borrowed ₹ 100,000 from his father and started manufacturing stabilizers.
Today, V-Guard has many domestic devices such as water pumps, fans, water heaters, mixer grinders, inverters, etc. And a turnover of ₹ 17000 crores.
Exide:
Exide industries limited is an Indian origin company owned by the Rajan Raheja Group. And its headquarters in Kolkata. It is especially known for its lead-acid batteries and is the fourth largest battery company in the world.
They also started making inverter later. Now it has a dealership in 46 countries which makes it a global leading company.
Su-Kam:
Su-Kam was founded by Kunwer Sachdev in 1988. it is an Indian company which has sold its product to 90 countries. Although it includes solar inverters, batteries, UPS inverters, battery chargers, online UPS, and battery equalizer. And it is still one of the leading brands worldwide.
Final conclusion
Luminous Zelio+ would be our recommendation from the list above. This is the best all-rounder inverter that you can get at an affordable price. It comes with pure sine wave technology and many more features such as noiseless operation, quick charging mode, display that show time in hours and minutes, water topping indicator, UPS mode for longer and powerful battery backup.
Every product listed above is best. And it's up to you to choose one, as per your requirements.
Feel free to ask us in the comment box, if you are still struggling or having any queries related to the products.
Also, share this valuable article with your loved ones to get aware of all the things about the best inverters in India.