Is your treadmill not working properly, or are you facing some common treadmill problems and finding immediate solutions. So first, don't panic, calm down, and read this article peacefully.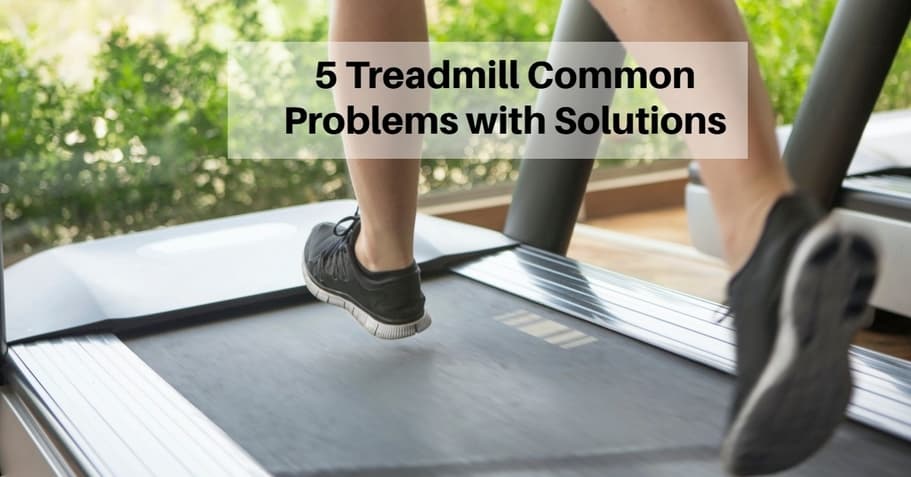 In this article, we are serving the better solution to maximum treadmill common problems. We know the treadmill plays a vital role in your fitness lifestyle.
It has come in a wide range and shapes and sizes or fantastic specifications. Sometimes, it can create some issues that may be small or huge. In that condition, you require to be well informed from the right sources.
Whenever you decided to get the best treadmill at home, made sure, to buy guides and reviews you used to read. It helps to avoid the chance of these issues. However, you face issues, so read this article carefully, solve the problem, and take advantage of treadmill exercise.
5 Most Common Treadmill Problems and Solutions
1. Why treadmill stopped working suddenly?
If your treadmill stopped working suddenly, firstly, don't panic and calm down.
Secondly, sometimes it happened; unfortunately, it can be some certain reason for these issues. Thirdly, did you check the belt and motor of the treadmill?
If you checked the treadmill's motor and the belt properly, despite not working, then check the cable and try to change it. Most of the time, the issue comes from the belt because it's not straight and frayed.
In that condition, you need to change the belt. As you change the belt, make sure proper lubrication is required. Now go for the treadmill test at low speed.
In some cases, the treadmill motor creates the issue; in that situation, you can contact treadmill customer executives if the treadmill's motor warranty is running.
Note: Keeping proper maintenance of the treadmill is giving you a surety for long life. It requires proper lubrication and maintenance twice a week.
2. Why are treadmill console buttons not working?
Most of the time, when someone preparing for running on a treadmill. These kinds of issues were created, for example, console buttons. Check your main switch button and see whether the proper current flowing there or not.
In some cases, wire creates issues!
Despite these things, check the wire connection between the console and motor controlling board, but before checking it, make sure to unplug the treadmill from the main switch.
If everything is good, then it requires sending the console for proper diagnosis. Treadmill technicians have such kinds of proper tools to identify the actual problem.
Maybe, in some care, it requires replacing the entire display console board, whether it is working or not. Even you should replace it; otherwise, the chance of creating an issue can be.
Read Recommended Post: 12 Best treadmills in India 2021
3. Why treadmill starts and stops immediately? – Need Help!
See, basically, the treadmill start and stops because it's some parts are not working properly. Sometimes, these parts create some technical issues, such as more friction of the treadmill belts. Maybe the treadmill motor, speed controller, and belt are not properly functioning.
If you try to give more effort to running and face other issues, stop running/walking on a treadmill. If you do continue exercising, that can be dangerous for you.
It's important to see the treadmill belt's condition because it can create some friction. The chance of heating can be increase and, its motor consumes more electricity.
Check properly the portion that is under the treadmill belt. Maybe that portion can create an issue, then lubricate between the portions, such as belt and motor. For saving time, you can get lubrication online.
Make sure the power cable is good to connect with the socket properly. It can probably be the issue with the cable cord and main switch plug inserted into the wall.
Last, it is most required, and probably most people avoid this process. You need to check the treadmill's speed and how its speed-controlling sensors work. Start with zero speed and increase the speed slowly, then reach out to the top speed.
Second, check it by jumping on a treadmill belt by walking. Third, change the speed so many times and sudden stop. This process will be helpful and reduce the chance of danger.
4. Why treadmill belt not moving? – Treadmill problems with solutions
A treadmill belt plays a prominent role for the treadmill as well as in your fitness life. Loss belts and tightness always create accidents and other injuries. The speed of the treadmill mostly depends on the belt and motor of the treadmill.
Whenever you begin the daily exercise, it is important to check the belt's tightness and looseness. It can take a little while but stay away from you from dangers.
The most reason is not moving the belt properly because eight belts lose more than 4 inches or are very tight. Make sure it should be between 2 to 3 inches because, during the motor run, its belt will be a string.
So it's most important to set its belt. Second thing, read the manual you got at the time of receiving the treadmill. Read all instructions carefully and execute. Sometimes, some people want HIIT (High-intensity interval training) running at a high incline for burning calories. Make sure at that time treadmill belt.
5. Treadmill speed problems and solutions
Generally, the treadmill comes with 1 to 15Km/h speed however, we talk about world-class branded treadmills. It can be more than 15Km/h of speed.
Basically, speed depends on the motor, so always remember to read the treadmill's proper key features.
Sometimes, treadmill speed also depends on the belt. It is important to check the belt condition if require then replace it.
If you checked the belt, then go for the treadmill console board. Maybe some wire losses and other common issues. By the way, it's the technical part if you are good at repairing it, so go for it, otherwise don't try to put unnecessary effort. Call the service executive and stay away from these entire problems.
Only these things (Motor, Belt, and Console) play a vital role in treadmill speed.
The treadmill is such a beautiful fitness machine, and you know it very well. All machines require proper maintenance; In fact, human beings also require rest and health checkups.
Final Thoughts
Treadmill engineers design this better fitness tool because of saving them time and unnecessary human beings efforts. But some people think machines should run permanently. For kinds of these people's information, there is nothing in this world that is permanent.
If you maintain it properly twice a week, the treadmill will be run for a long time.
Now we have covered the 5 most common treadmill problems with their solutions. We also believe the information would be helpful for you, so please like it, share it, and never forget to comment if you are still facing issues. Good luck.