Are you getting confused to understand among treadmill vs Stationary bike vs elliptical trainer? Daily exercise by these machines is more beneficial for your health and fitness journey.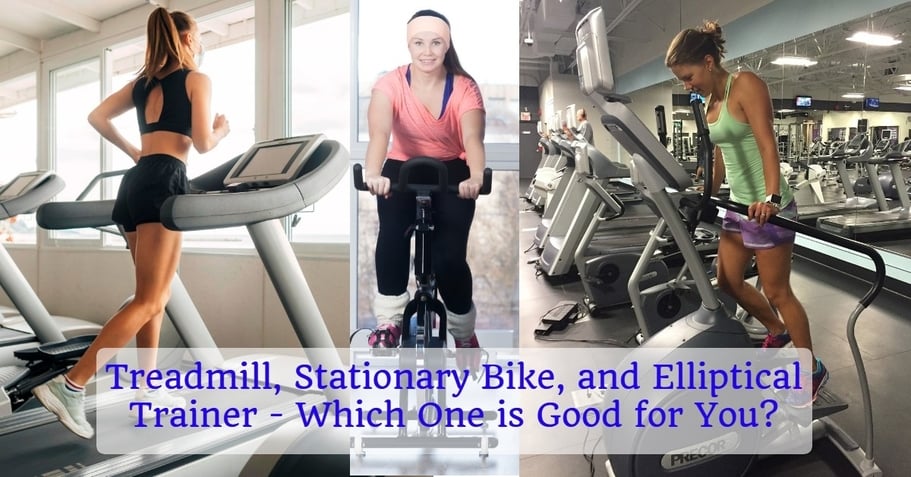 There is no surprise for the indoor and outdoor exercise by the elliptical trainer, stationary bike, and treadmill. These exercise machines good for aerobic exercise.
Treadmill, stationary bike, and elliptical trainer are the best tools for running, walking, and other exercises. Similarly, they can help to HIIT workout that boosts your heart, fitness, and mind.
Treadmill
The treadmill is such a wonderful tool for running and walking without moving anywhere. There are so many people globally; they don't have time for outdoor running; for those guys, this treadmill is a gift. In other words, a treadmill is a helpful fitness tool.
Advantages
Build more muscles and stamina
Running and walking on the treadmill build the core of muscles, stamina because of the inclination level of 1%. Similarly, Workout on the treadmill can boost the hip muscles that are flexors and glutes.
Flexors and glutes are a kind of group muscles presented in the hips; these are supportive for the body and responsible for the lower body's moment such as running, walking, and jumping.
Running on the treadmill does impact on entire body system and mind. Not only building muscles by running on the treadmill but developed the strength of the lower body. These exercises help to prevent unnecessary injuries.
Guide you like a personal trainers
Motorized treadmills having some fantastic features, it meant no require a personal body trainer. Some specific features are voice assistance, BMI (Body Mass Index), heartbeat monitoring sensors, motion sensors, etc. With the help of these features, you don't require a personal trainer.
Voice assistant for commands, heartbeat monitoring sensors analyze heart rate during running; motion can identify proper speed and your movements.
Recommended Post: Best treadmill in India
Disadvantages
Chances of accidents can be an increase
There are so many runners, and athletes that reported running on the treadmill is always a fear. During running, the leg can be a slip and other chances of accidents maybe happened. It would be best if you were aware emergency button in that condition.
So make sure properly known the safety button before start running. We also suggest one thing, it is important to run a treadmill for five minutes, then go for running or walking but slowly at the initial level.
It can be boring!
According to research, there are so many runners accepted. Running on a treadmill inside is easy to bore them. If someone runs on a treadmill for 10 minutes, it has the most chance to bore and avoid continuing running.
Some people also agree with it; running on the treadmill is unable to enjoy nature's views. Similarly connecting with nature, it is important to running early in the morning outside maybe some parks and some other place where most tress already available. It provides more fresh oxygen and more air to improve your fitness and health.
Elliptical Trainer
An elliptical trainer is a machine that mostly uses for exercise at the gym or home. This exercise machine one of the important for cardio exercise in the gym as well as at home. Similarly, you can select it directly at home and continue your exercise.
It is also good for HIIT workout that helps to maintain the whole body and improve the body structure.
Advantages
Burnout more calories faster
Over the world, there are 13 to 15% of people suffering from obesity rate. People don't have time to reduce the more fat; getting exercise help to burn out calories but slowly. This is a good fitness tool for burning out more calories rapidly. If someone beginning exercise and do continue for 30 minutes, it can burn 250 to 400 calories. The user weight should be approximately between (55 to 85 Kg).
It is important to understand burning more calories by using the elliptical trainer.
Full body workout (upper & lower)
The elliptical trainer has the ability to handle full-body workout such as lower and upper. During the exercise, it helps to the movement of your hands and legs portion. The elliptical trainer is a great exercise machine for a full-body workout.
Disadvantage
Taking more time to adjust
For beginners, the elliptical trainer is required more time for proper adjustment. The beginners do not know how to use it. The structure of the elliptical trainer takes some extra time to understand. For runners, the result wouldn't be the same because moving patterns are not the same.
Not good for long-distance exercise
According to the research conducted in 2015, the elliptical trainer is not suitable for a long period of running and jogging because its movement patterns are not the same. If you want a long time of exercise, the treadmill is a good choice.
Stationary bike
In this digital era, exercise plays a major role in our life, same as the stationary bike is a perfect fitness tool, which helps to maintain or reduce excessive calories. The stationary bike is an effective exercise machine for increase your stamina at home.
This exercise tool fulfills your daily calories burning problem and helps keep a healthy heart compared to other tools.
Similarly, it reduces joint pain and gives you a good result in less effort.
Advantages
Fewer efforts and better result
There are so many fitness tools available in the market, but a few require less effort and more benefits. Similarly, the stationary bike is a good fitness machine; it improves your bones, muscles, and joints at the low effort of workout.
Some lower joints such as knees, hips, and ankles can face lots of stress when running. These fitness tools make a proper balance of stress levels. It gives you great fun and lots of challenges while you use a stationary bike.
A great advantage of HIIT (high-intensity interval training)
See basically, All these exercise machines (treadmill vs. Stationary bike vs. elliptical trainer) play a good role in their own place even we have given their advantages and disadvantages.
A treadmill is good for HIIT running and saves most of the people's time. Interval training is a most intense workout that burns more calories in a short time of exercise.
These types of training are good for the persons who don't have more time for exercise.
Disadvantages
Do safe exercise
Some exercisers reported that stationary bike does not support during high-intensity exercise. Some time it injured their anklet and knees.
There are so many exercisers who say that it's sitting down seat very short and lack comfort. Make sure its seat be large in size and comfortable during exercise time.
Safety should be your priority whatever exercise tools (treadmill vs. Stationary bike vs. elliptical trainer) you are using.
Conclusion
All these exercise machines (treadmill vs Stationary bike vs elliptical trainer) play a good role in their own place even we have given their advantages and disadvantages. A treadmill is good for HIIT running and saves most of the people's time.
An elliptical trainer is suitable for full-body exercise but not for the long run and the last but not least, a stationary bike. This machine is also good for your fitness journey. All these machines improve the level of fitness and healthy mind. Good luck!